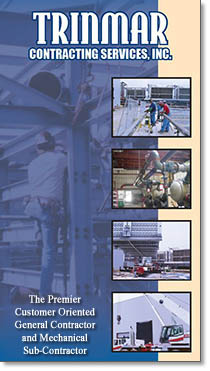 Download Brochure
(3.8 MB PDF)
Trinmar Contracting
Trinmar Contracting Services, Inc. is an 8(a) general contractor and commercial mechanical contractor, based in Baltimore, Maryland. Our company specializes in the construction, maintenance, renovation, repair, and alteration of power and process piping systems, pressure retaining pipe, and ASME code welding, rigging and setting of all related equipment. We also fabricate, erect, renovate and install high pressure steam and steam condensate distribution systems.
Our highly skilled and experienced welders, pipe fitters and mechanics perform all tasks to meet or exceed the most rigid standards and specifications. We are ASME certified and we hold the National Board of Boiler and Pressure Vessel Inspectors "R" symbol stamp for the repair and/or alteration of boilers and other pressure-retaining items.
Our management team focuses on two major sectors; general contracting services and mechanical contracting services in the commercial, industrial, institutional, medical, educational, and government contract fields.
General Contracting
Our construction staffing includes an aggregate management effort of over $2 Billion dollars in Federal Construction and includes certifications such as PE, CCM and PMP. Trinmar has aligned itself with the areas premier subcontracting force, as well as, several of the areas best A/E firms such as Wiley Wilson and others to provide a quality project team that will go unmatched in the 8a market sector.
Trinmar continually reviews all 8a set aside projects in the area in search of any renovation, base-build, or design build project that matches our unique capabilities, including projects for the following clients:
US Army Corps of Engineers
Department of the Navy
Air National Guard
Smithsonian Institution
Department of State
Department of Labor
Department of Veterans Affairs
Department of Defense - Pentagon
Baltimore County / Baltimore City - MBE
Commercial, Industrial Mechanical Contractors
The work of fabricating, erecting and renovating chemical handling process piping systems requires technical skill and knowledge of specialized materials and rigid safety requirements. We offer specialized expertise in the installation of large diameter process piping systems such as those in chiller plants, boilers, steam systems, heating and air conditioning systems typically installed in hospitals, large office buildings, government buildings, and universities.
All work is performed in strict compliance with the American Society of Mechanical Engineers (ASME) and National Board Quality Control Program.
ASME Code Welding
Highly trained and experienced mechanics accomplish complex welding tasks that meet the most rigid industry specifications. We have been certified for over 13 years. We also hold the national Board of Boiler and Pressure Vessel Inspector's "R" symbol.
Rigging & Equipment Setting
Rigging and erecting large and complex structures requires more than the right equipment. It takes the experience and know-how to do it precisely within design specifications and to do it safely, protecting workers and property.
Boiler Repairs
External boiler piping repairs, alterations and installations.
Chiller Plants
Our experience in the installation of chiller plants includes the use of large diameter piping, pumps and related equipment.
Process Piping
Fabricating, erecting, renovating and installing chemical handling systems takes technical skill and knowledge of specialized materials and safety requirements. Our experience includes a wide variety of applications, including heavy industrial, chemical plants and the beverage industry.
Power Piping
We fabricate, erect, renovate and install steam and high pressure condensate distribution systems.
Large Diameter Piping Systems
We offer specialized expertise in the installation of large diameter piping systems, such as those in chiller plants for hospitals and universities.
We have earned our reputation for quality and performance one job at a time.
[ top of page ]